"Just try new things.  Don't be afraid. Step out of your comfort zones and soar, all right?" ~ Michelle Obama
Continuing my 2019 bucket list with the motto of going out of my comfort zone, I decided to try out aerial silk.  I've been wanting to try it for a while, but I was timid because I thought it would be too difficult.  One of my sorority sisters have done aerial silk before, so attending sessions with her was great because I was more motivated to push myself further, and she was there as my cheerleader.  The classes that I attended incorporated workout exercises and yoga at a place called Air Aerial Fitness, located in Charlotte, North Carolina.
I've been practicing yoga for about 3 years now, so I am familiar with most of the foundational positions.  But doing yoga using silk is a whole other level of difficulty when it comes to maintaining balance.  My place practice has several classes. The classes I took were Air and Foundation, where Air is mainly yoga based and Foundation is more towards exercises.
My brain was like "don't let go of the silk, you will fall on your face".
The Air class started out with a gentle and simple warmup, then moved into more difficult positions such as peaceful warriors  1,2, 3, down dogs, cobra, etc.  These are all basic positions that I was familiar with (thank goodness), but I was struggling with keeping balance since the silk kept moving around so I was swaying side to side.  We tried several inversions and it was one of the scariest things I've ever done.  The whole time I was scared for my life, I was swaying back and forth so it was difficult to wrap my foot around the silk.  Thankfully, our instructor was so nice and she helped me with the placement of my foot from the outside of the silk for better grips.  My favorite position was when we finally get to lay in the silk like a hammock and meditate. I was so drained after the first session and slept so well that night.
*Internal screaming* I was trying so hard to maintain balance but I can't help but feel so graceful with this pose. 
The Foundation class was a bit more intensive and less relaxing, but it was effective for working the muscles.  Our instructor started the class by going over basic poses using the silks, allowing us to get comfortable with it first.  We used the silks for working our legs, arms, and core.  The core exercises were effective when it comes to targeting those stubborn muscles thanks to the difficulty level brought on by the silk (it was similar to doing TRX).  We also did several inversions, but this time I wasn't scared because I was able to maintain my balance since I was more comfortable with the silk.  I was a lot more confidence and adventurous with difficult inversions.
and even though I did fell out several times, I was able to catch myself.
At the end of classes, our instructors helped us get into different positions for pictures.   You see all these Instagram models holding intricate poses all strong and elegantly, but it wasn't exactly as pretty as I thought it would be.  I was struggling to get into some of those positions and holding them for pictures were just as difficult.  But through it all, I gained a new appreciation and respect for my body.  During the first class, I was scared to let go of the silk because I dislike the feeling of not being in control of my body.  My brain was like "don't let go of the silk, you will fall on your face".  But then I decided to trust my body, I was in awe with how strong it was, and even though I did fell out several times, I was able to catch myself.  I realized that I was making myself scared and anxious for no reason, instead, I should have more confidence in myself.  I was also able to laugh at myself for all the bloopers it took to get to certain positions, and it made the experience even more enjoyable.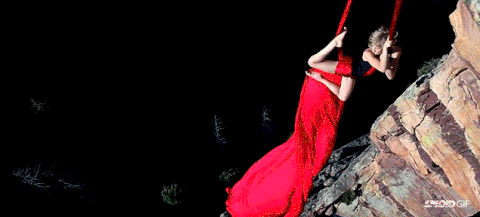 Expectation
Reality
Aerial silk is a full body workout like to pole fitness, but it requires more balance and stability.  If you are looking for a new type of workout or feeling adventurous, I recommend you to give aerial silk a try.  Bring a friend, water, workout leggings, and positive energy, and I promise you will have a great time.
Thank you for reading ^.^
Linh